What's CoAct for Mental Health?
Our goal is to understand how mental health social support networks work and propose actions to strengthen them.
Conferences and presentations


M4social at Mobile World Congress 2022
PRESENTATION. CoActuem per la Salut Mental.
Speakers: Bàrbara Mitats and Vincenç Mateo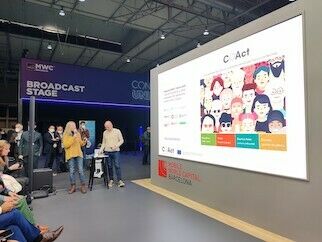 Decidim Fest. 22-10-2021
CONFERENCE. CoActuem: Procesos de aprendizaje sobre redes de soporte social en salud mental con instrumentos digitales y métodos científicos.
Presenter: Franziska Peter.


I Encuentro de Ciencia Ciudadana, Ciencias Sociales y Humanidades. 23-09-2021
CONFERENCE: CoActuamos por la Salud Mental.
Presenter: Anna Cigarini and Amanda Figueras.
Citizen Social Science School: Social Dimensions in Citizen Science. 14-09-2021
WORKSHOP: CoAct for Mental Health: sharing first-hand experiences and cocreating a chatbot.
Presenters: Anna Cigarini, Isabelle Bonhoure and Franziska Peter.